From The Crutchfield County Courier
May 6, 1987
 By Jerome Washburn, Courier Staff Reporter
Mrs. Martha Maxwell came home from Creek Christian Church Choir practice last Sunday and found her husband Frank lying on the floor of the garage. She fainted at the sight of the blood, but recovered to call the Fall Creek Valley emergency at 10:21 p.m. to rush an ambulance to the house. It appeared that her husband, Bobby's father, may have had a gunshot wound.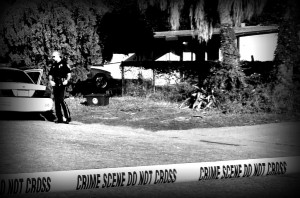 Chief Biff Jacobs told the Courier on Monday that Mr. Maxwell was never the same after the tragedy that befell his son. Signs of his unrest are now evident. He had not attended the Rotary Club meetings for about three months according to members. Neighbors said that since March 15th, when Bobby would have turned 11-years-old, Mr. Maxwell declined jobs to do any carpentry work or repairs and became more reclusive.
Bobby also kept to himself and, reportedly, his father encouraged him to try and fit in with his classmates. Mr. Maxwell was the one who allowed him to go to the party that night over his wife's opposition. Bobby's body was never found and there were no clues of foul play, nor any suspects.
Even before Mr. Maxwell's death, the town was shaken by the episode. Many in the town still grieve for Bobby, including his schoolmates and those who attended the Halloween party where he was last seen. The case briefly flared up when Reggie Griffin told authorities about a plot, apparently false, that led to Bobby's death. Police found no clues from his statements. Later Reggie was in fights at school over the comments.
Now, tragedy has struck again for the Maxwell family and the town of Fall Creek Valley. A coroner will present the cause of death next week. No services have been announced by Mrs. Maxwell. The police thought Bobby Maxwell's case was over, but with the death, it rises again. The Bobby Maxwell saga just won't go away.