From The Crutchfield County Courier
May 13, 1987
By Jerome Washburn, Courier Staff Reporter
Mrs. Martha Maxwell, mother of Bobby Maxwell who disappeared last Halloween, will use the family plot at Oakcrest Cemetery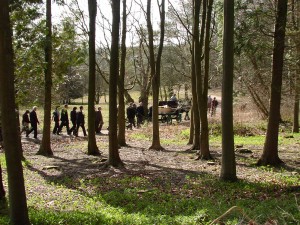 for her husband's final resting spot, according to Giavetti Mortuary. Burial will be 3 p.m. this Saturday.
Mrs. Maxwell came home from choir practice and found her husband Frank in the garage, where he may have taken his own life. She called for an ambulance but it was too late to save him. It is alleged that her husband may have shot himself.
Mr. Maxwell was never the same after the tragedy that befell his son. He slowly withdrew from his community activities and his carpentry work in the last few months. He had not attended his Rotary Club meetings and stayed home from work for several weeks, according to friends. They said that after March 15th, the day Bobby would have been 11, Mr. Maxwell became depressed.
He had encouraged his son, also shy, to try and participate with classmates more and allowed Bobby to go to the party that night over his wife's objection. Bobby's body was never found and there were no clues of foul play, nor any suspects.